Part three of a three-part online event series hosted by the Rosa-Luxemburg-Stiftung
---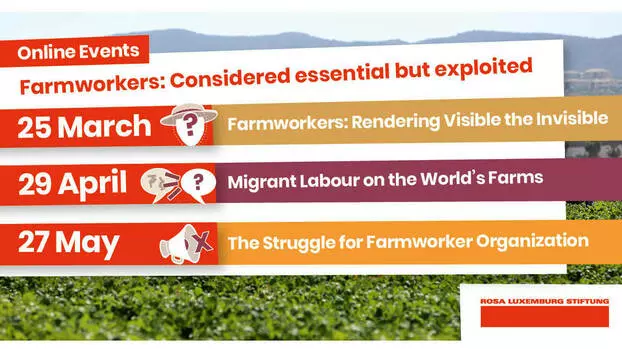 Event location: Livestream
Date: 27 May, 2021
Time: 10:00 Buenos Aires (ART), 15:00 Geneva (CEST), 15:00 Johannesburg (SAST) and 18:30 New Delhi (IST)
Registration required: https://zoom.us/webinar/register/WN_Kp9GkWIHTmKerI9Z_tspZA
The event will be held in English and Spanish with simultaneous interpretation.
---
The Struggle for Farmworker Organization
Thursday, 27 May 2021, 10:00 Buenos Aires (ART), 15:00 Geneva (CEST), 15:00 Johannesburg (SAST) and 18:30 New Delhi (IST)
In many circumstances it is difficult for farmworkers to be visible in conflicts and make their voices heard. Getting organized and speaking with a unified voice is certainly crucial for farmworkers to defend their interests in struggles with farmers and against diverse forms of exploitation. What are the different sources of power trade unions have? How do they seek to organize farmworkers and what are the challenges they face? What other forms of organizing are possible and how can workers organize themselves? What different strategies and approaches exist to strengthen farmworkers and give them a say in decisions that affect them? What are innovative forms of organizing and how can we forge exceptional alliances?
Speakers:
Anuradha Talwar, Paschim Banga Khet Majoor Samity, India
Alicia Muñoz, Union of rural women workers and sea workers (ANAMURI), Chile
Roman Pinal, United Farmworkers (UFW), USA
Heiner Köhnen, Transnationals Information Exchange (tie), Germany
Moderation: Patricia Lizarraga, Rosa-Luxemburg-Stiftung, Buenos Aires
---
---