A three-part online event series hosted by the Rosa-Luxemburg-Stiftung on 4 May, 8 June, and 6 July 2022
---
A plethora of studies provides evidence that pesticide use in agriculture is hazardous not only to the health of people who consume pesticide-laden produce, but also to the health of farm workers, farmers, and the surrounding environment. Toxic chemicals can cause irreversible damage to the soil, wildlife, and waterways, as seen in many communities around the world.
Yet pesticides remain a multi-billion-dollar business. The global agrochemical industry, led by BASF, Bayer, and Syngenta, who market their products as "crop protection products", has been found by civil society organizations and some regulatory authorities to pose serious health hazards. Nevertheless, these big agrochemical corporations are still able to sell their products with little to no restrictions in countries in the Global South such as Brazil, India, and South Africa.
Why does commercial industrial agriculture require the use of pesticides in the first place and how has the agricultural system changed over time? What alternatives exist to the use of pesticides in agricultural production and how do we maintain sufficiently high crop yields? What are the consequences of the use of highly hazardous pesticides for farmers and farm workers? How would highly hazardous pesticides need to be regulated and how could we ban the most hazardous ones? In our upcoming online event series, we will discuss answers to these and many other questions with international experts.
This three-part online event series organized by the Rosa Luxemburg Stiftung aims to explore key issues around pesticides, drawing on the insights of experts and experiences of farmers, farm workers, and affected communities from around the world.
Each online event will be held in English and Spanish with simultaneous interpretation.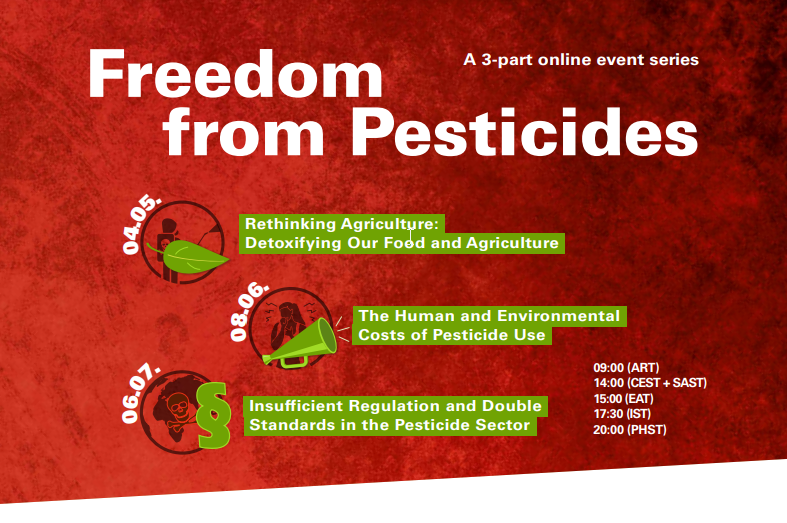 ---
---