Date and time: Wednesday, 8 June 2022, 09:00 (ART), 14:00 (CEST and SAST), 15:00 (EAT), 17:30 (IST), and 20:00 (PHST)
---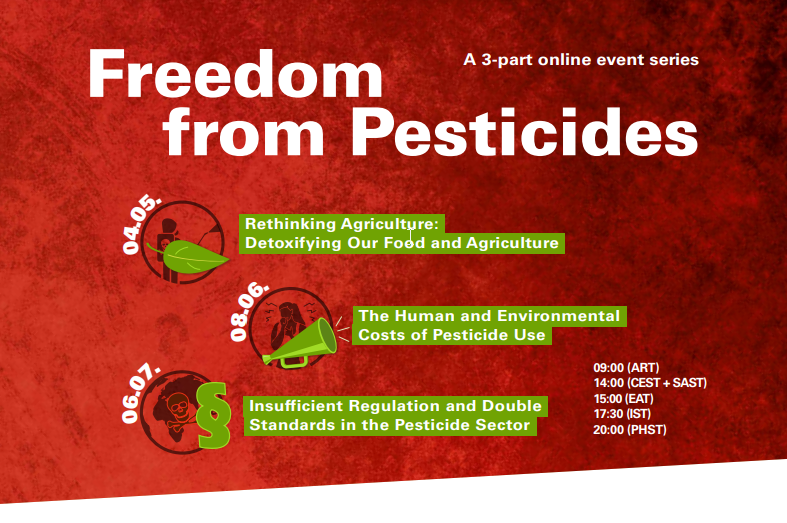 The event is part of the three-part online event series, "Freedom from Pesticides", organized by the Rosa Luxemburg Stiftung. Further event: "Insufficient Regulation and Double Standards in the Pesticide Sector" on 6 July.
Registration required: https://us06web.zoom.us/webinar/register/WN_VsB9puEJSUm2xFvTxS6eIA
The online event will be held in English and Spanish with simultaneous interpretation.
---
Pesticide giants maintain a particular and narrow scientific narrative on the impacts of pesticides, supported by a hefty marketing and PR budget. People on the ground, however, see and experience things differently. This event breaks down the impacts of pesticides on human health and the natural environment by presenting experiences from the ground with a particular focus on women. What are the real impacts of pesticides, and who are the direct victims of pesticide use? How can we challenge the hegemonic science that downplays the impacts of pesticides on health and affirm the voices of the affected?
Speakers:
Damian Verseñazzi, Faculty of Medicine Sciences, National University of Rosario, Argentina
Colette Solomon, Women on Farms Project, South Africa
Nining Elitos, Kongres Aliansi Serikat Buruh Indonesia (KASBI), Indonesia
Moderation: Ayi Kaario, Rosa Luxemburg Stiftung Southeast Asia
---
---